Recenzie: Allegiant (Divergent #3) by Veronica Roth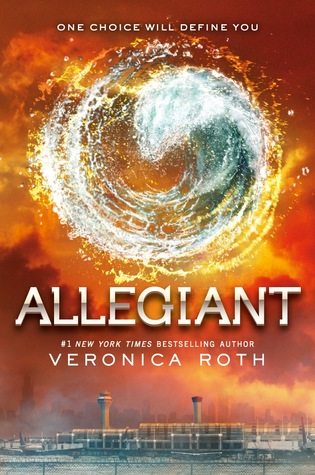 The faction-based society that Tris Prior once believed in is shattered—fractured by violence and power struggles and scarred by loss and betrayal. So when offered a chance to explore the world past the limits she's known, Tris is ready. Perhaps beyond the fence, she and Tobias will find a simple new life together, free from complicated lies, tangled loyalties, and painful memories.

But Tris's new reality is even more alarming than the one she left behind. Old discoveries are quickly rendered meaningless. Explosive new truths change the hearts of those she loves. And once again, Tris must battle to comprehend the complexities of human nature—and of herself—while facing impossible choices about courage, allegiance, sacrifice, and love.

Told from a riveting dual perspective, Allegiant, by #1 New York Times best-selling author Veronica Roth, brings the Divergent series to a powerful conclusion while revealing the secrets of the dystopian world that has captivated millions of readers in Divergent and Insurgent.
Multumesc frumos Librariei Books Express pentru oportunitea pentru oportunitatea de a citi aceasta carte minunata!
Gândurile mele (Roxana):
"She taught me all about real sacrifice. That it should be done from love... That it should be done from necessity, not without exhausting all other options. That it should be done for people who need your strength because they don't have enough of their own."
Sinceră să fiu nu sunt sigură cum să încep, pentru că, asemenea cărții Alegerea, sunt tulburată datorită lecturii acestei cărți...
Nu am de gând să vă mint... nu știu dacă o iubesc sau o urăsc...
În privința acestei trilogii s-a vorbit foarte mult, fiind a doua serie distopică, după Jocurile Foamei care a cucerit în mod irevocabil întreaga populație, cel puțin așa s-a întâmplat în cazul meu. Trebuie să recunoaștem că este o idee originală într-un univers care pare, uneori, să fie epuizat și totuși, această serie a făcut furori în că de la apariția ei și pe bună dreptate, aș adăuga. De aceea nu cred că vă va surprinde când voi menționa că am fost extrem de nerăbdătoare în privința ultimului volum și pentru a afla ce se va întâmpla cu perechea mea favorită, Tris și Four. Dar, ca întotdeauna, trebuie să avem grijă la ceea ce ne dorim.
Lumea Divergent este complexă prin simplitatea ei, la prima vedere fiind bazată pe cinci personalități diferite, numite facțiuni, dar după cum știm totul se schimbă...
La sfârșitul cărții Insurgent, apăruse o casetă care a șocat lumea lui Tris, prin care se dezvăluia adevărul despre facțiuni și despre divergenți, iar tot ceee ce știam până atunci se prăbușește, iar iubirea și încrederea dintre Tris și Four este din nou pusă la încercare. Recunosc că nu m-am așteptat deloc la adevărul în privința societății lor, iar emoțiile pe care le-am trăit în timpul lecturii au fost exact ceea ce am sperat că voi trăi, de la adrenalină, până la durere, furie sau dezamăgire. Ceea ce a lipsit din acest spectru a fost fericirea, nu bucuria (pe care am trăit-o în unele momente), ci fericirea absolută de a fi trăit această poveste. Dar, poate că voi veți avea o părere cu totul diferită, totuși pentru cei care veți lua decizia de a citi și acest volum, vă doresc:
"I'll say it one last time: Be brave."
"There are so many ways to be brave in this world. Sometimes bravery involves laying down your life for something bigger than yourself, or for someone else. Sometimes it involves giving up everything you have ever known, or everyone you have ever loved, for the sake of something greater.
But sometimes it doesn't.
Sometimes it is nothing more than gritting your teeth through pain, and the work of every day, the slow walk toward a better life.
That is the sort of bravery I must have now."
Nu voi încerca să subliniez punctele negative sau pozitive ale acestei cărți, deoarece aș include evenimente sau decizii ale unor persoane importante, care se vor reflecta în finalul poveștii și nu aș vrea să vă stric plăcerea lecturii, totuși trebuie să recunosc faptul că m-a deranjat neîncrederea dintre Tris și Four care apare la un moment dat, iar având în vedere evenimentele ce s-au petrecut în Insurgent, m-aș fi așteptat la o schimbare.
Totuși, Tris rămâne aceeași fată curajoasă din primul volum, iar acest aspect m-a bucurat nespus, având în vedere că acea Tris m-a cucerit și m-a făcut să o admir datorită faptului că era un...
divergent
și știu că mulți cititori vor considera nesăbuită și impulsivă, dar eu am admirat-o mereu, deoarece știu că motivul care a determinat-o să acționeze astfel era iubirea, pe care o resimțea mult mai puternic decât ceilalți, poate și datorită naturii ei de divergent...
"I fell in love with him. But I don't just stay with him by default as if there's no one else available to me. I stay with him because I choose to, every day that I wake up, every day that we fight or lie to each other or disappoint each other. I choose him over and over again, and he chooses me."
Scriitura lui Veronica rămâne în continuare inegalabilă, determinându-te, chiar și împotriva voinței tale, să continui să citești fiecare pagină fără să te poți opri, iar autoarea ca întotdeauna, nu se teme să pună accentul pe toate aspectele dureroase sau emoționale pentru cititor, fiind aproape puțin sadică, dar și pe emoția iubirii cuplului nostru favorit, care în ciuda problemelor sale, s-a maturizat și se observă cum legătura lor a devenit mai puternică, în ciuda adevărurilor ce par să explodeze în acest ultim volum. Iar Four...devine și mai incredibil, aflându-se în centrul atenției aproape la fel de mult ca și Tris, iar odată cu descoperirea experimentului,dar și a aliaților cât și a dușmanilor ce își doresc fie menținerea și păstrarea regimului facțiunilor, fie eliminarea lor, Four, Tris și prietenii lor trebuie să găsească o rezolvare înainte ca conflictul să escaladeze și mai mult, iar lumea lor să fie distrusă pentru totdeauna.

"I suppose a fire that burns that bright is not meant to last."
Decizie Finală- Dacă vă doriți o serie care vă va ține cu sufletele la gură, vă va face să vă întrebați dacă prietenii vă sunt într-adevăr prieteni sau dușmani, vă va determina să puneți la îndoială tot ceea ce știți despre lumea sau originile voastre, sau dacă vreți pur și simplu să citiți o serie distopică a unui Chicago complet diferit bazat pe personalitățile diferite ale unei fiinte umane, atunci... Allegiant care aduce finalul spectaculos al acestei serii minunate și atât de îndrăgite de cititori din lumea întreagă este cartea și seria ce trebuie să o citți imediat!
Nota mea: 4,5/5
Divergent series...

Despre autoare
Veronica Roth is from a Chicago suburb. She studied creative writing at Northwestern University, and wrote DIVERGENT (Katherine Tegen Books, May 2011) and INSURGENT (May 2012). The third and final book in The Divergent Trilogy, ALLEGIANT, will come out on October 22, 2013. In the meantime she will spend endless hours browsing Wikipedia in her pajamas as she eats corn flakes. (Or some other kind of bland breakfast cereal.)