Review: Magic Breaks (Kate Daniels #7) by Ilona Andrews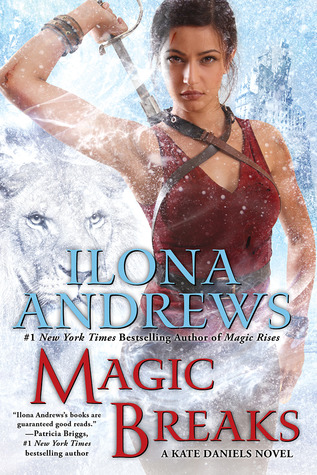 No matter how much the paranormal politics of Atlanta change, one thing always remains the same: if there's trouble, Kate Daniels will be in the middle of it…
As the mate of the Beast Lord, Curran, former mercenary Kate Daniels has more responsibilities than it seems possible to juggle. Not only is she still struggling to keep her investigative business afloat, she must now deal with the affairs of the pack, including preparing her people for attack from Roland, a cruel ancient being with god-like powers. Since Kate's connection to Roland has come out into the open, no one is safe—especially those closest to Kate.
As Roland's long shadow looms ever nearer, Kate is called to attend the Conclave, a gathering of the leaders from the various supernatural factions in Atlanta. When one of the Masters of the Dead is found murdered there, apparently at the hands of a shapeshifter, Kate is given only twenty-four hours to hunt down the killer. And this time, if she fails, she'll find herself embroiled in a war which could destroy everything she holds dear..
For my Romanians readers, you can buy it from here.
My thoughts (Roxana):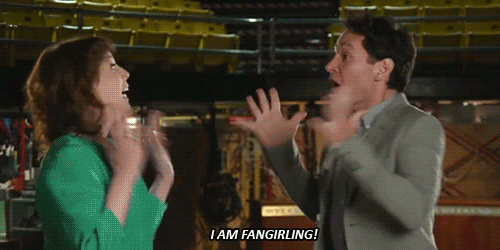 When I put my hands on this book, I thought I just got a meeting with God or the president or with a rock star, I simply canțt put in words how excited I was to start reading this book, no, not excited, but completely freaking out and jumping all over the place like a mad, mad woman! Seriously, people, if you didn't read this series what in the name of all that's holy, are you waiting for? Because that's one of the best series in the paranormal genre, and if I could write songs and odes for it, declaring my eternal love, I'll do it every freaking day! You simply can't stop yourself and not fall in love with the Beast Lord or Kate, or every other character from this amazing series...

"Maybe I should add some graffiti to spice it up. For a good time call the Consort. Beast Lord eats your food and turns into a lion in his sleep. Mahon has hemorrhoids. Boudas do it better. Warning, paranoid attack jaguar on the prowl…"

If you are afraid you'll not understand this series, or you'll have problems with it, then I can assure that's not going to be a problem, because almost every Kate Daniels novel can be read as a stand-alone, but I don't recommend it since this series it's worth reading it from the start. But, like I said this series begins with Barabas'account on everything that has happened till this moment (every excruciating, angst-filled, funny, sad or just-a-moment in this series) and I adored to see how others perceive Kate, so if you were afraid to read it, then don't be! Once, we see the recap, we find ourselfes (like so many other times) trapped in a murder. Well more like the people and the shapeshifters are trapped in this murder, and both of them are on the break of a war! And Kate, being the Consort or the Beast Lady, can't just walk way from this freaking disaster, can she? Even more so, because she's alone, without Curran, her mate. Now, Kate has to find the murder and resolve this crime, before this war begins, but, fortunate for her, she can do it with her most helpful shapeshifters, but, like I said the clock is ticking and her dear father will make his presence known...

"Because that's what it would catch in the wild, a boar, right? I can't wait to see a pack of bunnycats take down a wild hog with those short tiny legs. Wouldn't the boar be surprised?"
Everybody was a comedian.
"May be if I oink loud enough, it'll leap across the beam and try to devour me."
About her father...most of you already knows who he is, for those who don't- well he's Roland, and for those of you who has read the book 6, you know that he is coming for her, now that her secret is out in the open, and even though Kate had some spectaculars opponents, some of them her family, some her stalking obssesed right hand warrior of Roland. Well, neither of them can't compare with The Big Wolf, and while I was excited to find out how he is, I was also scared out of my mind, because let's face it- he's Roland, the greatest challenge Kate will ever have, not to mention her father...
From the others novels, I was always conflicted about him, on one part he's evil because Voron, her adoptive father has said it so many times, but we know now that Voron it's not to be trusted, at least not completely, if we count what had happened to him, but we also know that Roland can be merciful and he DID loved his other children, but all of them have gone crazy, somewhere along their life. Besides he loved Kate's mother and she loved him, so if there has been some love between them, can this so powerful, more than life, demi-god be this cruel and horrible. Well, the answer is somewhere in the middle, because we can't simply box him in one category or the other. I'll admit that I was hoping to see more of him, but like the authors already said it: THIS IS NOT THE LAST BOOK IN THE SERIES, so we'll see more of Roland in the next books. Besides, you just know it in your bones that it will be an amazing fight, and while we want Kate to be the winner, she's not quite ready for this confrontation. Yes, she was brilliant in her fight with Hugh, but her powers are not as Roland's who had so much time at his disposal and has made so many creatures...

"Curran's eyes went gold. His voice dropped into a rough growl. "If you're going to shoot, make sure to empty the clip, because after you're done, I'll shove that gun up your ass sideways."
Blue Jacket blinked.
"Can you even do that?" I asked.
"Let's find out." Curran stared at the thug. "Well? Shoot, so we can start this experiment."

I know that many of you are going to be dissapointed with the absence of our Beast Lord but I was somewhat happy, and it's just my opinion, so don't kill me, but I think that it was essential for Kate to grow more as a character, and find out she can survive without him. I think she will love him more and be a great team further, but when her life will be at stake, she'll ask for his help because she wants him to be with her, not for her...
Besides, you don't have to worry because when Curran makes his appearance... he makes it in great style.
"Desandra shrugged her shoulders. "Hey, Kate? Have you thought of walking up to Hugh and telling him that he's got the biggest dick ever?" She spread her arms to the size of a baseball bat.
"No, you think it would work?" I asked.
"It's worth a try. May be he'll be so happy you noticed his pork sword, he'll forget all about trying to kill us."
Pork sword. Kill me now. "I'll think about it."
Ascanio began patting his clothes.
"What?" Derek growled.
"Looking for something to take notes with."


"Quick, Derek, it's your chance to shine," Ascanio said.
Derek gave him a withering look.
"Desandra is a mother, Robert is married, Kate's affianced, and I'm an old soul. You're the closest thing to a virgin we've got. Get on with growing some flowing locks."
This series it's not just about fighting and romance (we have them in spades), but it's also about friendship the power you have to find it in you to put someone else's life before you, and it's not easy since the human's nature is selfish, but this series speaks more about it, and we see how Kate goes from a mercenary all alone in the world, designed to be the figuratively speaking 'bullet' to kill Roland, and now she has a fiance, friends that we'll do anything to save her and more allies that she can count. So, this book has almost everyone of them has role to play in this book, and yes we find out more about Ghastek, or Rober the Alpha of Clan Rat, and I know that not many of you are Ghastek's lovers, but once some of his past comes out you'll understand him more.
Not to mention Derek and Ascanio who are the perfect team for Kate, their wit and sarcastic's replies will have laugh so many times though the book even when the world seems to come to an end for Kate's crew.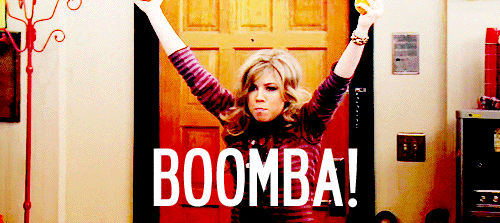 "You know, if you have certain frustrations," Ascanio said, "I would be happy to help you work them out."
Derek looked at me, pointed at Ascanio, and punched his left palm with his right fist a few times. I shook my head. No, you can't pummel him." What I don't regret are the losses of Kate's enemies, some of them who I hate them with all my being and I can't express my whole gratitude for their deaths and maybe I'm a little like Kate, but I was so invested in this series it become like a new family, and every loss it was like a punch at my gut, so I understood Kate's desire of vengeance.
Final Decision- If you want to read a wonderful book that we'll have on the edges of your seat on this whole crazy ride then read Magic Breaks, or even better read the whole series, because it's worth it. It's so worth it...
My rating: 5/5
Kate Daniels series:
Magic Bites (Kate Daniels, #1)




by

Ilona Andrews

Magic Burns (Kate Daniels, #2)




by

Ilona Andrews

Magic Strikes (Kate Daniels, #3)




by

Ilona Andrews

Must Love Hellhounds (Sookie Stackhouse, #9.2; Guild Hunter, #0.5; Kate Daniels, #3.5; The Guardians, #5.5)




by

Charlaine Harris

Magic Mourns (Kate Daniels, #3.5)




by

Ilona Andrews

Magic Bleeds (Kate Daniels, #4)




by

Ilona Andrews

Hexed (Kate Daniels, #4.5; Otherworld, #9.5; Stormwalker, #2.5; Anna Strong Chronicles, #6.5)




by

Ilona Andrews

Magic Dreams (Kate Daniels, #4.5)




by

Ilona Andrews

Magic Slays (Kate Daniels, #5)




by

Ilona Andrews

An Apple for the Creature (Kate Daniels, #5.3)




by

Charlaine Harris

Magic Gifts (Kate Daniels, #5.4)




by

Ilona Andrews

Gunmetal Magic (Kate Daniels, #5.5)




by

Ilona Andrews

Hex Appeal (Phoenix Chronicles; The Shadowfae Chronicles, #4.5; Kate Daniels, #5.6; The Dresden Files, #11.9)




by

P.N. Elrod

An Ill-Advised Rescue Part 1




by

Ilona Andrews

An Ill-Advised Rescue Part 2




by

Ilona Andrews

Magic Rises (Kate Daniels, #6)




by

Ilona Andrews

Magic Breaks (Kate Daniels, #7)




by

Ilona Andrews

Night Shift (Kate Daniels, #7.5; SPI Files, # 0.5; Psy-Changeling)




by

Nalini Singh

Magic Shifts (Kate Daniels, #8)




by

Ilona Andrews

Untitled (Kate Daniels, #9)




by

Ilona Andrews

Untitled (Kate Daniels, #10)




by

Ilona Andrews
About the Authors
Ilona Andrews is the pseudonym for a husband-and-wife writing team. author2sm"Ilona is a native-born Russian and Gordon is a former communications sergeant in the U.S. Army. Contrary to popular belief, Gordon was never an intelligence officer with a license to kill, and Ilona was never the mysterious Russian spy who seduced him. They met in college, in English Composition 101, where Ilona got a better grade. (Gordon is still sore about that.)
Gordon and Ilona currently reside in Oregon with their two children, three dogs and a cat. They have co-authored two series, the bestselling urban fantasy of Kate Daniels and romantic urban fantasy of The Edge.