Recenzie: Clockwork Princess (The Infernal Devices #3) by Cassandra Clare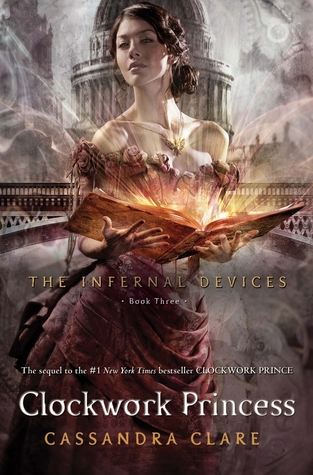 Tessa Gray should be happy—aren't all brides happy? Yet as she prepares for her wedding, a net of shadows begins to tighten around the Shadowhunters of the London Institute. A new demon appears, one linked by blood and secrecy to Mortmain, the man who plans to use his army of pitiless automatons, the Infernal Devices, to destroy the Shadowhunters. Mortmain needs only one last item to complete his plan. He needs Tessa. And Jem and Will, the boys who lay equal claim to Tessa's heart, will do anything to save her.
Multumesc frumos

Librariei Books Express

pentru oportunitea pentru oportunitatea de a citi aceasta carte minunata!
Gândurile mele (Roxana):


"Life is a book and there are a thousand pages I have not yet read."
Aș vrea ca această recenzie să fie cât mai abstractă din moment ce este o serie pe care o iubim cu toții, dar nu toți au fost atât de norocoși de a citi ultimul volum...
Această serie este scrisă într-un mod impecabil și aproape înfricoșător de realistică, pentru mine a fost prima serie care m-a introdus în lumea vânătorilor de umbre și printre primele serii fantasy și steampunk pe care am avut plăcerea, sau mai bine zis onoarea să o citesc, încât, nici în acest moment, nu pot crede că s-a terminat...
Este atât de superbă, încât în timpul lecturii, cuvintele par să zboare pur și simplu și cu fiecare pagină, asimilarea emoțiilor ce le evocă în inima ta ca cititor devine mai greu pentru că este imposibil să nu te implici și să nu-ți dorești un final fericit pentru toate personajele acestei serii minunate, desigur, cu excepția celor negative...


"You endure what is unbearable, and you bear it. That is all."


"A very magnanimous statement, Gideon," said Magnus.
"I'm Gabriel."
Magnus waved a hand. "All Lightwoods look the same to me."
Poate nu veți de acord, dar eu întotdeauna am privit această serie ca fiind un bildungsroman, o călătorie spre maturizare a tinerei Tess, care fără voia ei se trezește prinsă în lumea întunecată a unei Londre victoriene, în care vânătorii de umbre și alte creaturi supranaturale sălășluiesc ducând o existență complet diferită de restul populației din acea epocă...
În timp ce lectura la Instrumente Mortale, cealaltă fenomenală serie scrisă de Cassandra, conține mai multe scene de acțiune care te ține cu sufletul la gură în fiecare moment al lecturii, Dispozitivele Infernale este mai emoțională și, după părerea mea, te conectează mai mult cu personajele la un nivel cu totul diferit de cel din Instrumente Mortale- în niciun caz nu insinuez că una dintre serii este mai prejos sau superioară celeilalte, ci doar că sunt diferite, unice în mod diferit-iar acest ultim volum nu face abstracție de la regulă.
Fiind descrisă cu o acțiune ce se concentrează mai mult asupra personajelor și a sentimentelor, mi-a devenit imposibil să nu mă atașez de personaje și implicit să-mi doresc ca Mortmain să sufere un sfârșit dureros și agonizant de lent pe măsura faptelor sale, dar, deși nu s-a întâmplat chiar așa cum voiam, totuși sfârșitul său a fost spectaculos și perfect!
Un alt aspect al acestei serii a fost umorul și sarcasmul personajelor, precum și replicile lor acide ce constituiau un deliciu pentru cititor de fiecare dată, nu cred că mai trebuie să menționez că îl ador pe Magnus, iar de data aceasta a fost incredibil, mai ales în relația lui Henry, sau în replicile lui privitoare la Lightwood...
Charlotte rămâne în continuare luptătoarea mea preferată, fiind figura maternă care se poate impune în fața personajelor mai tinere, dar la fel de bine reușește să fie alături de ei, mai ales că vor avea nevoie de suportul ei, iar Sophie și Bridget au fost curajoase și loiale, Cecily... am iubit relația ei cu Will, chiar și frații Lightwood au râmas în sufletul meu, datorită frământărilor sufletești de a face ceea ce este corect sau a rămâne loiali familiei.

"Tessa craned her head back to look at Will. "You know that feeling," she said, "when you are reading a book, and you know that it is going to be a tragedy; you can feel the cold and darkness coming, see the net drawing tight around the characters who live and breathe on the pages. But you are tied to the story as if being dragged behind a carriage and you cannot let go or turn the course aside." His blue eyes were dark with understanding — of course Will would understand — and she hurried on. "I feel now as if the same is happening, only not to characters on a page but to my own beloved friends and companions. I do not want to sit by while tragedy comes for us. I would turn it aside, only I struggle to discover how that might be done."
"You fear for Jem," Will said.
"Yes," she said. "And I fear for you, too."
"No," Will said, hoarsely. "Don't waste that on me, Tess."


"I am catastrophically in love with you."


"Will rose slowly to his feet. He could not believe he was doing what he was doing, but it was clear that he was, clear as the silver rim around the black of Jem's eyes. "If there is a life after this one," he said, "let me meet you in it, James Carstairs."
"There will be other lives." Jem held his hand out, and for a moment, they clasped hands, as they had done during their parabatai ritual, reaching across twin rings of fire to interlace their fingers with each other. "The world is a wheel," he said. "When we rise or fall, we do it together."
Will tightened his grip on Jem's hand, which felt thin as twigs in his. "Well, then," he said, through a tight throat, "since you say there will be another life for me, let us both pray I do not make as colossal a mess of it as I have this one."
Will și Jem... Jem și Will, doi băieți pe cât de diferiți, pe atât de mult se completează- de parcă ar fi jumătățile aceleași părți, sau yin pentru yang-ul celuilalt... recunosc am fost mereu o fană a lui Will, cu alura lui de băiat rău, dar cu o parte romantică pe care o ținea ascunsă de lume și un secret care-l măcina pe dinăuntru, dar Jem... nu-mi doream un sfârșit tragic pentru el... ȘI NU VĂ SPUN DACĂ A FOST SAU NU UN SFÂRȘIT TRAGIC...
Dar ceea ce voiam să subliniez este faptul că această serie nu se concentrează asupra unei eroine care trebuie să aleagă între doi băieți, ci asupra unor prieteni care încearcă să supraviețuiască unui destin dur și adeseori ce pare implacabil, iar o astfel de legătură este atât de greu de găsit în literatură încât nu pot să spun decât: jos pălăria pentru Cassandra, care ne-a oferit o șansa de a o descoperi.
Recunosc că autoarea a reușit să creeze o poveste perfectă cu un sfârșit pe măsură, iar, de data aceasta mă abat de la regula mea cu decizia finală, pentru că această serie este deja spectaculară...
Nota mea: 5/5
"Jem knotted his fingers in the material of Will's sleeve. "You are my parabatai," he said, "You said once I could ask anything of you."

The Infernal Devices series...
The Infernal Devices is the prequel to The Mortal Instruments series by Cassandra Clare.
Sequel:
The Mortal Instruments
Spin-off:
The Dark Artifices
Manga adaptation:
The Infernal Devices: Manga
Companion Book:
The Shadowhunter's Codex
Spin-Off:
The Bane Chronicles
Deleted or Extras:
The Infernal Devices Extras
Series also known as:
* Shadowhunters: le origini

About the Author
"Cassandra Clare was born overseas and spent her early years traveling around the world with her family and several trunks of fantasy books. Cassandra worked for several years as an entertainment journalist for the Hollywood Reporter before turning her attention to fiction. She is the author of City of Bones, the first book in the Mortal Instruments trilogy and a New York Times bestseller. Cassandra lives with her fiance and their two cats in Massachusetts."
You can find me online at
www.cassandraclare.com
I have a blog:
http://cassandraclare.livejournal.com/
and a Facebook:
http://www.facebook.com/Cassandraclare
and a Twitter:
www.twitter.com/cassieclare